May 10th, 2023
A resounding success for Labrie Group at Waste Expo 2023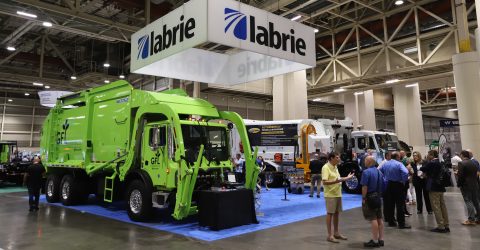 The Labrie Environmental Group's presence at Waste Expo 2023 was a resounding success, with a very popular booth and a great deal of interest in the company's new Automizer Alley-Hand™ Pendulum Packer and EnviroLink solutions.
Visitors to the Labrie Group booth were impressed by the company's innovative products and technologies, which are designed to make waste collection smarter, safer and more efficient. The Pendulum Packer, in particular, was a hit among attendees, thanks to its advanced design and ability to handle a wide range of waste types.
Labrie Group's EnviroLink solution also garnered a great deal of interest, as attendees were eager to learn more about the company's advanced software platform that helps waste management operators optimize their operations and reduce costs.
Overall, the Labrie Group's presence at Waste Expo 2023 was a testament to the company's commitment to innovation and leadership in waste collection.
(Labrie™ Waste Expo 2023 Highlights)